Kootznoowoo, Inc. is overseen by a seven-member Board of Directors who are responsible for establishing the direction, strategy, and policies for the corporation. Each Director is elected to a three-year term by shareholders with voting status. Directors are all Alaska Native and enrolled shareholders in Kootznoowoo.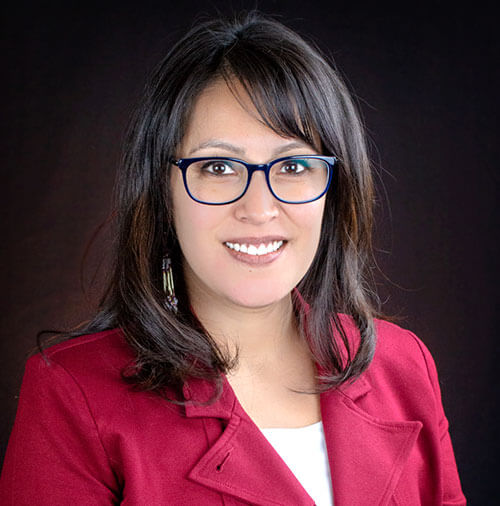 MELISSA M. KOOKEESH
BOARD CHAIR
Melissa M. Kookesh was elected to the Kootznoowoo Board in 2016 and began serving as Board Chair. In addition to her role as Chairwoman, she also serves as ex-officio on all committees.
From 2005-2014, Melissa worked in the Office of the President at the Central Council Tlingit & Haida Indian Tribes of Alaska. Currently, she is employed as a Legislative Aide for the Alaska State Legislature. Melissa holds an Associate of Arts and Sciences and certification in Tribal Management from the University of Alaska Fairbanks.
Melissa is the daughter of Lena Woods and the late Floyd M. Kookesh and is the granddaughter of the late Matthew and Ramona Kookesh. Melissa is Raven Dog Salmon from the Central House in Angoon, and her Tlingit name is X'eetoow.
Melissa's term ends in 2022.
"It is an honor to serve the shareholders of Kootznoowoo and to be a part of leading the corporation into a new direction of success. Working to make the corporation profitable and one that we can all be proud of has not been an easy task, but we continue to make significant advancements towards our vision."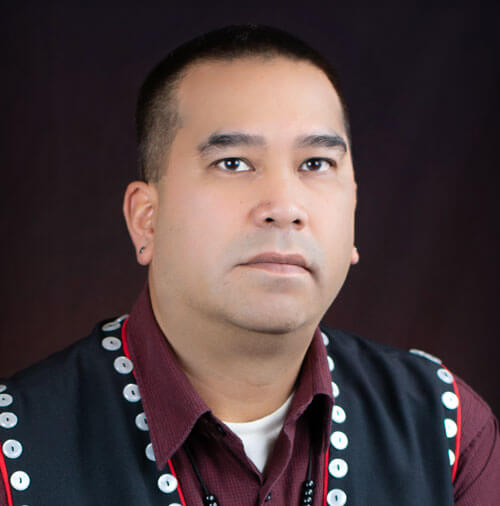 FRANK JACK III
VICE CHAIR
Frank Jack III was elected to the Kootznoowoo Board in 2017 and is currently a member of the Executive Committee. In addition to serving the Board as Vice Chair, Frank is also on the Chatham (8a) and Fortress of the Bears committee.
Frank is a resident of Angoon and is employed as a Miner with the Hecla Greens Creek Mine. Previously, he worked as a Site Supervisor for 12 years with Tlingit Haida Regional Housing and also was a member of the Angoon City Council. Frank is committed to supporting the community with strong involvement in local cultural activities and preservation.
Frank is the son of Frank Jack, Jr. and Martha Henniger-Jack. His paternal grandparents are the late Frank Jack, Sr. and Elizabeth (Beth) Jack and his maternal grandparents are the late Bernard Henniger and Marion Valle-Henniger. Frank is Galyàx Kaagwantaan from Yakutat.
Frank's current term ends in 2020.
"My priority for Kootznoowoo is to think outside of the box and develop a portfolio of diverse businesses that are strong and viable. It is our responsibility as Directors to ensure that our corporation is profitable in order to safeguard continued benefits and dividends for not only the shareholders of today, but also the shareholders and descendants of tomorrow."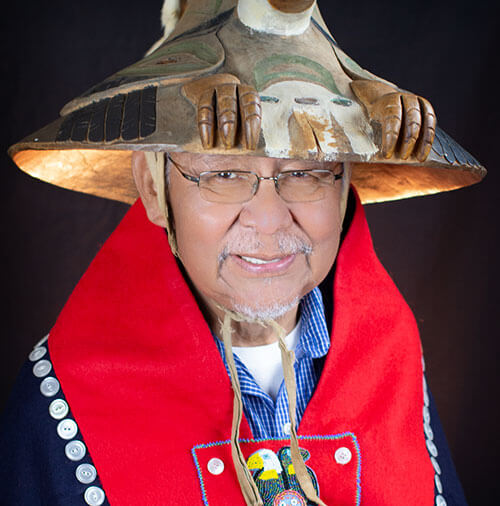 Cooney C. Starr served on the Kootznoowoo Board from 2014-17. In 2018, he was re-elected to a second term as a Director. Currently, he serves as Treasurer.
Though currently retired, in his career, Cooney worked in the banking industry and was employed at Seattle First National Bank as a Senior Vault Teller and Trainer. Later he worked at Rudioso State Bank as a Trainer where is was responsible for upgrading security procedures. Cooney is a graduate of Mount Edgecumbe High School. In addition to having attended Haskell Indian Junior College, he earned an associate degree from South Seattle Community College.
Cooney's term ends in 2021.
"As a Board member, we have an obligation to the to the people and the children of Angoon. 'The children are our future'. It's been said many times but not sure if anyone ever followed through. The children need to be nurtured and encouraged to go to college as they go thru high school. After college, they need to come home and to start taking over the Corporation. That is what we need to do. An example of this is the Kootsnoowoo Board. Our Madam Chair is one of our young shareholders. I believe we need more of our young educated or savvy shareholders to stand up and step up for Kootsnoowoo."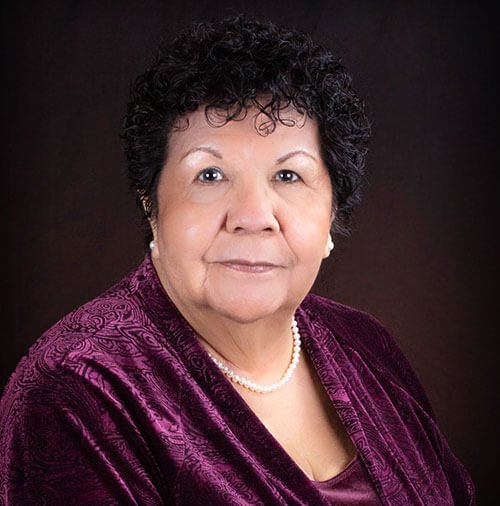 H. JEAN HOGUE
CORPORATE SECRETARY
Henrietta Jean Hogue was first elected to the Board in 1976, serving continuously through 2015 and reelected in 2016. Jean serves as Corporate Secretary for the Board and is the Chairman of Chatham Properties.
In 1987, after a long and dedicated career, Jean retired from Pacific Medical Center in Seattle, Washington where she also served as a Union Steward. She began her nursing training in 1961 and eventually earned her Operating Room Technician certification from Sherman Hospital in Elgin, Illinois. Jean is a graduate of Sheldon Jackson High School.
Jean is the daughter of Andrew Gamble Sr., Deisheetaan Yeil' Hit and is a grandchild of Deishu Hit. Through her mother, Matilda Gamble, Jean is Kaagwaantaan of the Sitka Multiplying Wolf House. Jean is married to David Hogue, retired air force, and they have four children, seven grandchildren, and two great-grandchildren who Jean proudly shares "are all shareholders."
Jean's current term ends in 2022.
"As a director, I believe the Board is responsible for protecting and managing shareholders' interests in the company. Shareholders are our owners, it is our duty and role to listen to our owners as we work to grow and expand Kootznoowoo's businesses."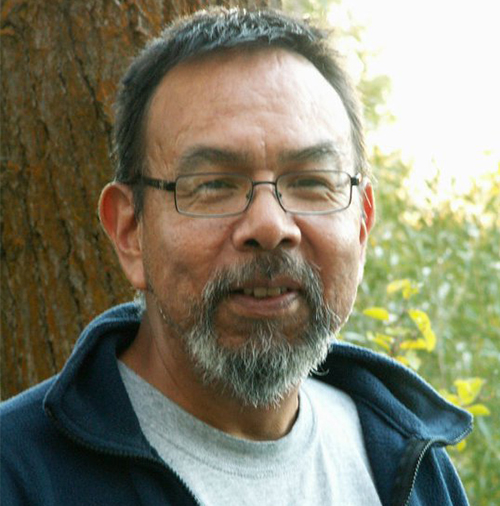 HAROLD FRANK JR.
DIRECTOR
Harold Frank Jr. was elected to the Board in 2019. Previously he was employed by Kootznoowoo, Inc. as a Land Manager and also as a Land & Environmental Planner.
Currently, Harold is self-employed and has spent his career dedicated to assisting Tlingit Indians with land and resource issues related to ANCSA. He earned a Bachelor of Science from the University of Idaho and a Master of Science with an emphasis in renewable energy in rural settings from Central Washington University.
Harold is the son of the late Sophie and Harold Frank Sr. He is the grandson of Daisy Gamble and Nadja and Johnnie Gamble. Harold is Kah Jawk ti', Tleineidi (Dog Salmon) from Ahn Kah Hit (Central House) in Angoon.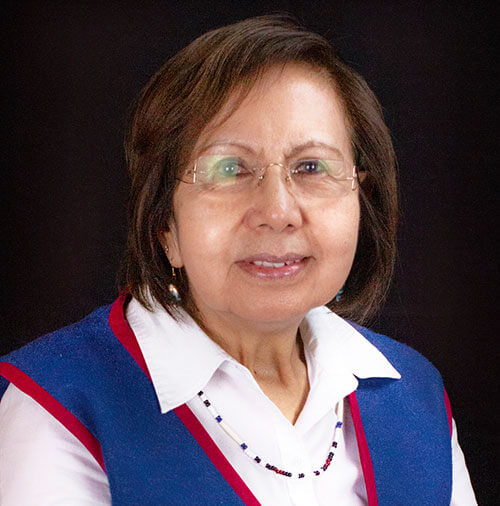 Ella Bennett began her service on the Kootznoowoo Board in 2015 and was elected as Board Chair in 2016. 
Throughout her career, Ella has primarily been employed in positions that provided service to the Southeast Alaska Native community. Most recently, she works as an Administrative Assistant at the Tlingit & Haida Community Council and previously was a Records Clerk at Sealaska Corporation where she also worked in the Shareholder Records Department for twenty-seven years. Additionally, Ella was a consultant with Records Management Consulting Services from 2011-2012. 
Born in Angoon, Ella is a graduate of Mount Edgecumbe High School. She later earned a Certified Public Manager certification from the University of Alaska Southeast.
Ella has also contributed to the community through appointments to other boards including the Tlingit Haida Housing Authority's Board of Commissioners where she currently serves as Vice Chair; the Juneau Tlingit Haida Community Council's Housing Committee; and the Central Council Tlingit and Haida Indian Tribes of Alaska's Tribal Enrollment Committee. Ella is the daughter of the late Johnnie and Nadja Gamble. 
Ella's current term ends in 2021.
"I believe that the success of our corporation means pursing business ventures, incorporating our cultural and traditional values into our business plans, and embracing a future of success."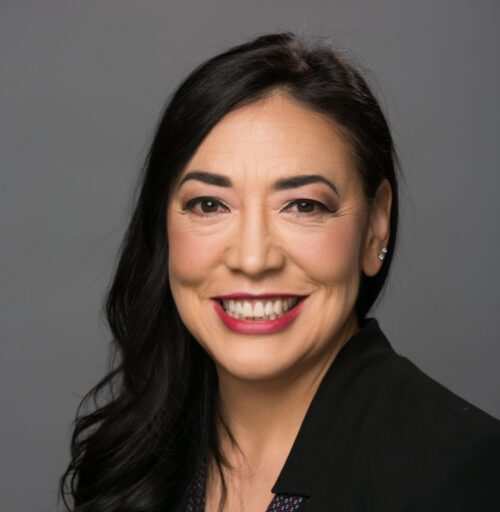 DEBORAH J. ATUK
PRESIDENT & CEO
Deborah J. Atuk was appointed President & CEO of Kootznoowoo, Inc. in February 2021.  Ms. Atuk is responsible for overseeing the day-to-day functions of the corporation including all business operations, and developing policies, procedures, and programs to strengthen and enhance Kootznoowoo.
Prior to joining Kootznoowoo, Ms. Atuk served as a Portfolio Specialist and Institutional Relationship Manager for SkyView Investment Advisors, LLC in New York City where her focus was on serving the unique needs of Alaska Native and American Indian clients. Previously, she was the Treasurer of the Eastern Band of the Cherokee Nation in North Carolina and Director of Business Development at the Colville Tribal Federal Corporation in Eastern Washington.  Ms. Atuk also serves as Treasurer of the Board of Directors for Bering Straits Native Corporation.
Originally from Nome, Alaska, Ms. Atuk is Iñupiaq.  She earned an undergraduate degree in economics from the University of Chicago and a Master of Business Administration from the Tuck School of Business at Dartmouth College.  Ms. Atuk began her career in finance and worked in Chicago as an investment banker at ABN-AMRO and later SG Cowen.
In addition to the Bering Straits Native Corporation Board of Directors, Ms. Atuk also serves on the board of the Kissaq Kingikmiuruguqtuat, an Alaskan non-profit established to preserve and revitalize the Wales dialect of Iñupiaq.